If you are also a customer of Jazz and you are looking for a jazz franchise, which jazz franchise near me. Below is a list of all the details City wise in which you can find your nearest jazz franchise.
Jazz has introduced its franchises in all the cities of Pakistan for the convenience of its customers so that Jazz customers have the convenience and in case of any problem they can go to jazz franchise and solve their problem.
Jazz is Pakistan's largest telecom company that brings cheap packages to its customers. The Telecom company Jazz has 34 million subscribers in Pakistan. Jazz service provides good service in big cities and small towns of Pakistan, as well as in rural areas of Pakistan.
Jazz Franchise Near Me (Karachi)
The list below provides you with a complete list of jazz franchise names, franchise contact numbers and area details in which you can find your area.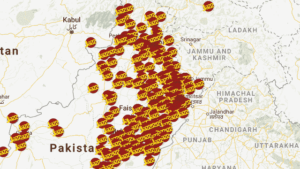 | | | | |
| --- | --- | --- | --- |
| City: | Franchise Name: | Contact No | Address |
| Karachi | S.G. Communications | 3202002040 | House# D-11, Block 4, Fazur Rehman road, Metroville SITE KHI |
| Karachi | INAYAT COMMUNICATION | 3018228666 | Main RCD road Asad Chowk Near UBL bank HUB Chowki |
| Karachi | HADEED COMMUNICATION | 3133096458 | Shop #1 House # C319, Gulshan-e- Hadeed Phase-I ext Bin Qasim Town, Karachi. |
| Karachi | SS COMMUNICATION | 3008294614 | Shop# 11A abdullah complex sector 5J near 2 minute chowrangi north karachi, Karachi |
| Karachi | Murad Soni Enterprise�s | 3453190019 | Jazz point, LS 49, Main UP More, North Karachi |
| Karachi | HASSAN ENTERPRISES | 03008244130 / 03028247507 | bismillah market main super highway gate no 2, karachi |
| Karachi | COSMOS COMMUNICATIONS | 3002442526 | Shop no. 6, Akhter Iqbal Compound, Beside Honda Bike Showroom, Main Shahrah-e-Pakistan, SohrabGoth , Karachi. |
| Karachi | S S S COMMUNICATION | 3442170001 | SHOP # 15 FL-08 BLOCK 04 CROWN GARDEN NEAR AL JADEED SUPER MARKET GULAST-2-JOHAR KARACHI |
| Karachi | NKLINKS | 3218225992 | PLOT # 893, BLOCK C, PARACHA CHOWK, SHERSHAH, MAIN ESTATE AVENUE, S.I.T.E., KARACHI. |
| Karachi | S.A. COMMUNICATION | 3232222292 | Shop no. 4/54, Darkshah Society, adjacent to MCB Bank, Malir Kala board, Karachi. |
| Karachi | SOHAIB COMMUNICATION | 3002666280 | Shop No.1, R-28, Second 32/B, Korangi 1.5, Korangi Town, Karachi. |
| Karachi | CELLULAR COMMUNICATION | 3007004400 | SHOP NO.1, PLOT NO.8-C, KHADDA MARKET, PHASE-5,D.H.A, KARACHI. |
| Karachi | WEBLINK TELECOM | 3008266314 | 14-C, SEA BREEZE CENTRE, BLOCK-5, MAIN BOAT BASIN, CLIFTON, KARACHI. |
| Karachi | Meer Bolan Communications | 3077776290 | office # 331, plot #131, gulsahan-e jamal, block A, 130000. road bagh-e- korangi, korangi, industrial area near singar chowrangi Karachi |
| Karachi | SIGNALS COMMUNICATIONS | 3008252828 | Plot # 5-C, MAIN KHAYABAN-E-ITEHAD, Opposite KFC PHASE-2, EXTENSION DHA, KARACHI. |
| Karachi | EMPIRE TELECOM | 3218218888 | SHOP # 7, PLOT 3/19, D.M.C.H.S., NEAR GHANI SONS TARIQ RD. KARACHI |
Jazz Franchise in (Sindh)
| | | | |
| --- | --- | --- | --- |
| City | Franchise Name | Contact No | Address |
| Jamshoro | SAKHI LAAL COMMUNICATION | 3008372167 | Shop # 1 & 2 Bismillah Centre near MCB bank Main jamshoro Road. |
| Kotri | HAYYAN COMMUNICATION | 3008372430 | Shop no 5 , Liaqat Road, Opposite Post office Kotri, Jamshoro , Kotri. City Kotri Province Sindh |
| Hyderabad | Godil Communication | 3133373765 | 2589 bhurghurey road , Near Nawabshah van stand stop, hirabad hyderabad City Hyderabad Province Sindh |
| Hyderabad | SADAAT TELECOM | 3008379991 | Shop# 15, 6 Rashmeen Center Near National Bank Unit # 08 Latifabad Hyderabad |
| Hyderabad | ASPIRE COMMUNICATION | 3003000937 | Franchise Name ASPIRE COMMUNICATION Address |
| Tando Jam | PACE COMMUNICATION | 3082552413 | Mobilink franchise Mirpurkhas road , Bus stop tandojam City Tando Jam Province Sindh |
| Mirpurkhas | F.B TELECOM | 3035809562 | Near Bank Al Habib Station road Mirpurkhas City Mirpurkhas Province Sindh |
| Nawabshah | IHSAN SONS | 3022390098 | Shop No 4,5 Tayyba Shopin Center, Katechry Road, Nawabshah |
| SEHWAN | MEERANI COMMUNICATION | 3022390204 | Main Daragah Road Sehwan Sharif |
| RANI PUR | RANI PUR COMMUNICATION | 3008316660 | RANI PUR COMMUNICATION, Main Station Raod, Ranipur. |
| Khairpur | MASHALLAH COMMUNICATION | 3008313057 | MASHALLAH COMMUNICATION, Main Karachi Raod, Kumb. |
| RANI PUR | RANI PUR COMMUNICATION | 3008316660 | RANI PUR COMMUNICATION, Main Station Raod, Ranipur. |
| Sukkur | 3 S COMMUNICATION | 3008317383 | 3 S COMMUNICATION, Near Mujahid Resturant, Station Road, Rohri. |
| Sukkur | NIMRA COMMUNICATIONS | 3099996667 | Nimra Communication Opposite, Allah Wali Masjid, Bunder Road Sukkur |
| Larkana | CELL ZONE | 3003435372 | CELL ZONE, Shop No.4, Bukhari Shopping Center, Station Road, Larkana |
| Jamshoro | SAKHI LAAL COMMUNICATION | 3008372167 | Shop # 1 & 2 Bismillah Centre near MCB bank Main jamshoro Road. |
| Kotri | HAYYAN COMMUNICATION | 3008372430 | Shop no 5 , Liaqat Road, Opposite Post office Kotri, Jamshoro , Kotri. City Kotri Province Sindh |
| Hyderabad | Godil Communication | 3133373765 | 2589 bhurghurey road , Near Nawabshah van stand stop, hirabad hyderabad City Hyderabad Province Sindh |
| Hyderabad | SADAAT TELECOM | 3008379991 | Shop# 15, 6 Rashmeen Center Near National Bank Unit # 08 Latifabad Hyderabad |
Jazz Franchise Near Me (Lahore)
| | | | |
| --- | --- | --- | --- |
| City | Franchise Name | Contact Number | Address |
| Lahore | HIAN COMMUNICATION | 3004466770 | 169 A, Saddar Bazar Lahore Cantt |
| Lahore | EXCEL COMMUNICATIONS | 3214232300 | Old Anarkali, opposite Neela Gumbad, The Mall, Lahore |
| Lahore | FONE COMPANY | 3008412222 | Shop # 23, Zarar Shaheed Road, Near Nadra Office, Lahore |
| Lahore | T MOBILE | 3004727272 | KHASRA # 22 MAIN AIRPORT ROAD,BHATTA CHOWK, LHR |
| Lahore | DAWN COMMUNICATION | 3008439261 | MARINE HOUSE 99COMMERCIAL AREACAVALRY GROUND,LAHORE. |
| Lahore | ASZ COMMUNICATION | 3004204208 | near pso pump bhobatian chowk raiwind road lahore |
| Lahore | BELLS TELECOM | 3233333366 | 15/16 Canal Road Beside Lahore Brost Lahore |
| Lahore | Rehman Telecom | 3454025536 | house # 379, st#23, sector-a, phase 5, dgs, lahore |
| Lahore | BISMILLAH MOBILES | 3028407407 | Rampura Stop , GT road , opp MCB Bank Near Bata Factory, G T Road, Lahore. |
| Lahore | CHAUDHARY INTERPRISES | 3000858585 | 462, Shadman, Near Shuakat Khanum Lab, Opposite Fatima Memorial Hospital, Lahore-Sufiabad Ferozpur Road |
Jazz Franchise in (punjab)
| | | | |
| --- | --- | --- | --- |
| City | Franchise Name | Contact Number | Address |
| Rawalpindi | MOBILE SOURCE | 3005000251 | Shop#13 , New Citi Plaza Ch Bostan Khan Road Chaklala SCh 3 Rawalpindi |
| Rawalpindi | HASSAN COMMUNICATION | 0515735027 / 03025393063 | Gr-floor beside City super store,Raj Weeding Hall plaza Jahaz Ground stop Khanna Road Rawalpindi |
| Rawalpindi | Malik Communications | 3175008802 | Plot #1 3rd Floor, plaza 69 rafi , main commercial phase 8 bahria town rawalpindi |
| Rawat | SHAHEENTELECOM | 03008522211 / 0300888088 | SHOP NO 1 KHOKHAR MALL 2 MAIN GT ROAD RAWAT ISLAMABAD |
| Gujjar khan | SHEIKH TELECOM | 3005555991 | Sheikh Telecom, Al imran Market, Pindi Road Kalar sayedan |
| GUJARKHAN | ALI ALI COMMUNICATION | 3225252151 | Jazz franchise ,Akbar kiyani plaza near Bus stand main GT road Gujar khan |
| TALAGANG | KHAWAJA TELECOM | 3005114495 | BASHIR TELECOM,opposite highway office, Mianwali Road Talagang |
| Chakwal | Sadaan Traders | 3079770043 | Jazz Point – First Floor Office # 1, Chibriya Plaza Pindi Road Chakwal. |
| Mianwali | A Y LINK | 3006098671 | Hameed Sunbal Market,Civil lines, Mianwali |
| Sargodha | VOICE LINKERS | 3333333049 | 1 JOYIA MARKEET BLOCK 8 CITY ROAD SARGODHA |
| Gujrat | ORANGE CELL | 3008621900 | Zeeshan Plaza, Rehman Shaheed Road, Gujrat City Gujrat Province Punjab |
| Sialkot | Mobile 4 U | 3338618888 | Tcs office paris road sialkot |
| Sialkot | SARDAR COMMUNICATION | 3008612140 | Circular Road, Sialkot |
| Sialkot | SARDAR COMMUNICATION | 3008612140 | Circular Road, Sialkot |
| Gujranwala | CELL CLUB | 3008741188 | Main Market, Model Town, Gujranwala |
| Gujranwala | TELELINKS | 3077202020 | Near Women Degree College, Satellite Town, Gujranwala |
| Gujranwala | AL WAHID TRADERS | 3018743334 | Main Market, Peoples Colony, Gujranwala |
| Gujranwala | BLUE BELLS | 3008621900 | Mughal Market, Khiyali, Sheikhupura Road, Gujranwala |
| FAISALABAD | GS TELECOM | 3008650888 | Hakeeman wala Chowk, Ghulam Mumammad Abad Faisalabad |
| FAISALABAD | Digitech | 3018564524 | Near by iqbal stadium Faisalabad |
jazz franchise near me (Multan)
| | | | |
| --- | --- | --- | --- |
| Okara | ZAFCOM | 3006959999 | ZAFCOM , Mobilink Franchise , Depalpur Chowk Okara |
| Sahiwal | CITY CELLULAR NETWORK | 3009420204 | 79-F Canal Colony Fareed Town Road Sahiwal |
| Harrapa | WAEL COMMUNICATION | 3005000189 | Nahi wala Road Jinnah Town Harrapa Station |
| Multan | TALK INN PLUS | 3004400008 | Mda Chowk Near Food Festival Katcheri Road Multan |
| Multan | NADIR ENTERPRISES | 3008733601 | Metro plaza, multan cantt, Multan |
| Multan | Zaki Communication | 3008734566 | Makkah Arcade Opposite PTCL Exchange Nawan Shehar Multan |
| Multan | LINKS COMMUNICATIONS | 3028646000 | Shop# 13/14, Fort Plaza, Near Hussain Agahi Road, Ghanta Ghar Chowk, Multan |
| Dera ghazi khan | ADIL and COMMUNICATION | 3248055555 | Railway road Block No1 Dera ghazi khan |
| Bahawalpur | HASSAN and COMMUNICATION | 3008587155 | Near Save & Save One Unit Chowk Rafi Qamar Road Bahawalpur |
| Bahawalpur | BAHAWALPUR | 3048680000 | Near Pakora chowk, Ghalla Mandi Road Bahawalpur |
| Okara | ZAFCOM | 3006959999 | ZAFCOM , Mobilink Franchise , Depalpur Chowk Okara |
| Sahiwal | CITY CELLULAR NETWORK | 3009420204 | 79-F Canal Colony Fareed Town Road Sahiwal |
| Harrapa | WAEL COMMUNICATION | 3005000189 | Nahi wala Road Jinnah Town Harrapa Station |
| Multan | TALK INN PLUS | 3004400008 | Mda Chowk Near Food Festival Katcheri Road Multan |
| Multan | NADIR ENTERPRISES | 3008733601 | Metro plaza, multan cantt, Multan |
| Multan | Zaki Communication | 3008734566 | Makkah Arcade Opposite PTCL Exchange Nawan Shehar Multan |
| Multan | LINKS COMMUNICATIONS | 3028646000 | Shop# 13/14, Fort Plaza, Near Hussain Agahi Road, Ghanta Ghar Chowk, Multan |
| Dera ghazi khan | ADIL COMMUNICATION | 3248055555 | Railway road Block No1 Dera ghazi khan |
Jazz Franchise Near Me (peshawar)
| | | | |
| --- | --- | --- | --- |
| City | Franchise Name | Contact Number | Address |
| Peshawar | Onetel communication. | 03458900043 / 03339100097 | Onetel Communication Shop No:8 Malik Plaza Opp Emirate Hospital Dalazak Road Peshawar |
| Peshawar | HALEEM TELC 03 | 3005708888 | Phase 3 Chowk. Jamrud Road. Peshawar |
| Peshawar | GEMINI COMMUNICATION | 3018588444 | Shop Hotel Al-Khaleej Ramdas Road Dabgari Garden Peshawar |
| Peshawar | WWC | 3008599909 | State Life Building, The Mall. Peshawar Cantt |
Jazz Franchise in (kpk)
| | | | |
| --- | --- | --- | --- |
| City | Franchise Name | Contact Number | Address |
| Pabbi | NU COMMUNICATION | 3005700321 | Shop # 1/3, Jalil Plaza, G. T. Road, Zayarat Stop, Pabbi. |
| Nowshera | LUCKY COMMUNICATION | 3070000902 | Army Welfare shop, Near Daewoo Office, Nowshera Cantt. |
| TOPI | BUNAIR COMMUNICATION | 3009092222 | MAIN BAZAR TOPI |
| Hari pur | WAHID TELECOM | 3215555345 | Khanpur Arcade, Near Allied Bank, Main GT Road, Haripur |
| Havelian | Pak Digital Home & Mobile Comm | 3335022555 | malik plaza ameer moaiva chowk main bazar havelian |
| Bagh | Bagh telecom | 3008555912 | Bagh Telecom Main bridge opposite to pearl valley college next to SCOM franchise Bagh Azad Kashmir |
| Ghazi | INDUS COMMUNICATION | 572522698 | Fatima Complex, Near Caltex Petrol Pump, Main GT Road, Hassanabdal |
| wah cantt | FIZAN-E-ABU BAKER COMMUNICATION | 3008817750 | Shop# 5,Bismillah, plaza, 1st ffloor, post office, road, wah cantt |
| Taxila | AREZINS TELECOM | 3008559192 | Near Saray Kala Main GT Road Taxila |
| BATKHELA | ZUHAIB COMMUNICATION | 0932410110 / 03088028080 | G.T. Road Batkhela |
| Besham | ADZ COMMUNICATION | 3000666775 | Mobilink Franchise China Market Main Bazar |
| Murree | Murree Mobile | 3008154934 | Jazz Point – GPO Mall Road Murree. |
| Battagram | NOOR KHAN COMMUNICATION | 3215707777 | warid franchise ,main bazar battagram |
| Mansehra | KHAWAR USMAN ENTERPRISES | 3219688656 | Alsyed Plaza, Shahra e Resham, Mansehra |
| Abbottabad | NORTHERN COMMUNICATION | 3219808910 | opposite Army Burn Hall, Mandian, Abbottabad |
| SAMABAGH | BAJOUR COMMUNICATION | 3005557222 | Shop# 07 , Sadat Market, near Mayar Busstand , Samarbagh Road, Munda Distt Lower Dir |
| Parachinar | AL-MUSTAFA TELECOM | 3008156555 | Al Nasir Plaza, Zerdyan Road, Parachinar |